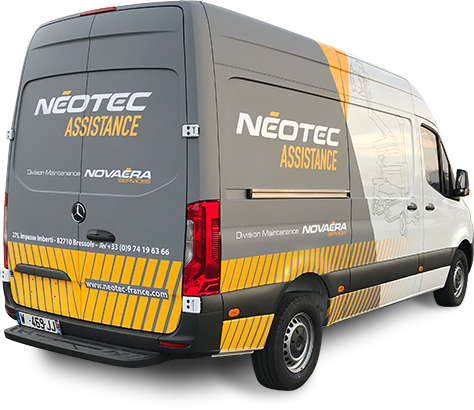 NOVAERA SERVICES,
NEOTEC'S AFTER SALES
& SUPPORT DIVISION
NOVAERA SERVICES,
NEOTEC'S AFTER SALES
& SUPPORT DIVISION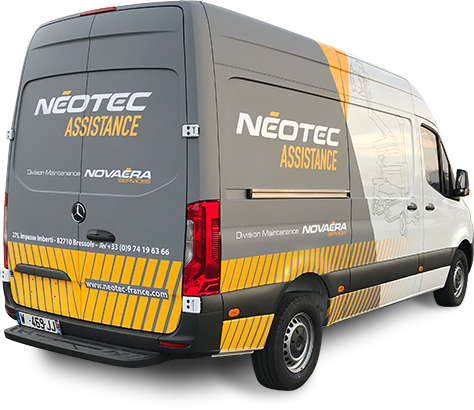 In 2008, NEOTEC set up a team dedicated to Machinery Services and, since 1 July 2018, the creation of a subsidiary 100% dedicated to this activity: Novaera
Services.ISO 9001 2015 certified company, it is stepping up its commitment to the Quality approach for the continuous improvement of its products and after-sales service.
The investments made by the NOVAERA group also relate to a significant development of the resources of the Services team with the provision of a workshop that is 100% dedicated to the storage and repair/modernisation of machines. Alongside this approach there has been a strengthening of the travelling teams with the aim of facilitating the use and the level of service of the machines in the field and enabling our clients to optimise their profitability.

HOTLINE
Novaera Services has a Hotline service available 5/7 from 8 am to 6 pm.
Level 1 diagnostic aid
Request for service and planning

SERVICING
Levels 2 and 3 servicing and above
On site by our travelling servicing teams
Repatriation to one of our maintenance sites (Montauban, Paris, Lyon)

MAINTENANCE CONTRACTS
We offer maintenance contracts for all Neotec machines.
Preventive maintenance
Corrective maintenance

SPARE PARTS
Find all the references for wear and spare parts for SKY and ELAN machines.
New parts
Reconditioned parts

LEASING
Novaera Services has a fleet of Sky and Elan machines.
Short and medium term leasing from 2 weeks to several months
Replacement leasing

UPGRADE
We can improve the capacities of all your Neotec machines:
Regeneration
Safety developments (additional brake, etc.)
Particle filter equipment

TRAINING
For each machine, training is offered:
Theoretical training (at the head office in Montauban or at the client site)
Practical training (on our test tracks in Montauban or on the track close to the client site).

Novaera Services can prepare your machines for passing their MOT (organisation, prior work guaranteeing the continuity of production of your machines).
> Please contact us for more information
Responsiveness, efficiency & skills
With more than 300 railway machines in operation in France to date, including nearly 100 linked to customised maintenance packages according to the needs of clients and their structures, the responsiveness, availability, efficiency and skills of our field technicians are key to our offer and essential to our Services structure.
The aim of Novaera Services is to ensure the operational availability of machines and equipment.
This servicing also provides feedback, enabling us to increase reliability and improve NEOTEC products.
The assistance technicians are mobilised to intervene as quickly as possible. They are supported by our workshop technicians who can provide reinforcement, on site or in our remote workshops.
By relying on this organisation and on the associated management tools (fleet monitoring software, communication tablet linked to the machine, travelling technician communication tablet), all preventive and corrective maintenance operations are prepared, organised, carried out, controlled and tracked.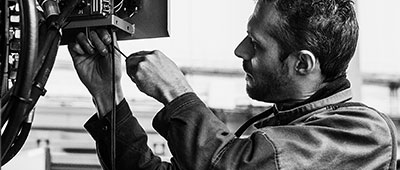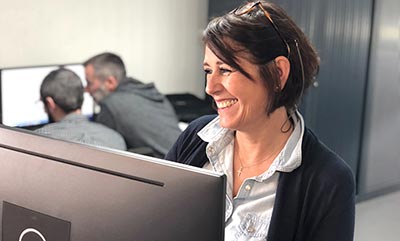 100% at the service of your productivity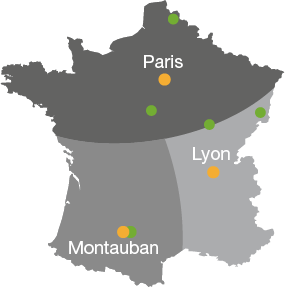 Novaera Services has 3 workshops
+ 4 spare parts distribution points:
••1 Main maintenance workshop
+ main spare parts store in Montauban-Bressols (82)
•1 additional workshop in Paris-Cesson (77)
•1 additional workshop in Lyon (69)
•1 Parts distribution point in Orléans (45)
•1 Parts distribution point in Dijon (21)
•1 Parts distribution point in Mulhouse (68)
•1 Parts distribution point in Lille (59)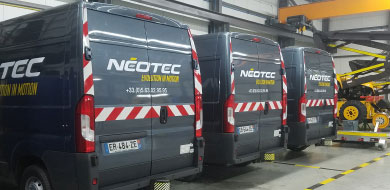 A fleet of 6 equipped service vehicles
Troubleshooting/preventive and curative maintenance/assistance with the VGP [general periodic check]
Novaera Services has a fleet of workshop vans and travelling technicians trained for this purpose.
Each of the has a tablet connected to the NEOTEC central base to ensure the traceability of operations (Level 2 maintenance and troubleshooting work).