NEOTEC's strategy: to invest in innovation.
«The fact that we have successfully rolled out all our projects fills me with satisfaction. It has enabled us to implement new concepts which have allowed us to convince more than one Customer in France, Europe and North America. Today, signing our vehicles with the NEOTEC brand fills each and every member of our staff with pride. Moreover we owe our success to our staff's active commitment and responsibility concerning the quality of our products.
In company, we have the know-how and skills to combine different technologies. Our certifications ISO 9001-2008 and RISQS M1 (mechanical risk management certification), prove that NEOTEC is constantly innovating to improve its offers: with one aim in mind:
making sure its customers are satisfied. Born in the land of Rugby NEOTEC has based its values on 3 of the game's ground rules: team spirit, pride in your colors, courage and commitment. The men and the women working for NEOTEC put these principles into use every day to follow our motto: EVOLUTION IN MOTION ».
Pascal ROUX – Chairman NOVAERA Group
A TEAM OF MEN AND WOMEN TOTALLY COMMITTED TO MEETING ALL YOUR NEEDS
1991 / 1998
Developing a high level of expertise
In the beginning, the company's main activity was turned to preliminary studies, design and manufacturing prototypes of mechanical transmission members and equipment for special vehicles and machines. Thanks to its expertise Néotec has, over the years, gained itself a solid reputation through developing a volume of business with the biggest worldwide manufacturers in varied fields of industry such as car manufacturing, construction and forestry plant manufacturing, rail, marine gearboxes, heavy duty vehicle manufacturing and farming vehicles.

1999 / 2007
Multiple skills serving the rail industry
With its growth strategy based on the complementary nature of what it does, NEOTEC set itself the challenge to become a special vehicle and equipment manufacturer. Initially turned towards the manufacture of road rail vehicles for powerline networks and aerospace the company gradually became more and more specialized in the manufacturing of road/rail vehicles mainly dedicated to building and maintaining railway infrastructures. NEOTEC built up its activity on creating both homogenous and adaptable ranges.



2008 / 2015
Customizing on a large scale
In 2008 NEOTEC saw the crisis as an opportunity to shift its market position. After having invested heavily in order to improve and rationalize its machines, to structure its organization and implement an ambitious export plan, the dynamism and skills within the company were rewarded as early as 2001. Today over 500 NEOTEC vehicles are in use in the world 400 of which in rail, which now represents over 80% of the group's activity worldwide.

2016
NOVAERA: a multinational reach
Aware of the need to actively support its growth strategy NEOTEC carried out a shareholding structure reorganization operation by creating the NOVAERA group. The latter ensures, through its investments, that the existing range can be developed and complemented to meet market requirements.
Now having a production capacity of over 100 vehicles per year over several production units, NEOTEC provides its customers with an array of innovative reliable products backed up by a first rate Services organization.



Break down of our applications
A marked increase in turnovers
The company managed by its founding Chairman Pascal ROUX, a company which firmly intends to carry on developing through making the most of the assets which have made the company successful up to now: a mastery of innovation thanks to the combined creativity
and reactivity of its design office personnel who make up 25% of the company's total workforce.  Above all, heavy investment internationally shows the company's responsiveness to markets abroad: export representing 40% of the company's activity.
NEOTEC has doubled its activity since 2012 and intends to keep up this momentum aiming to double its present turnover over the next 4 to 5 years.
2014 : 8 124 000

2015 : 11 425 000

2016 : 13 822 000

2017 : 16 305 000

2018 : 19 432 000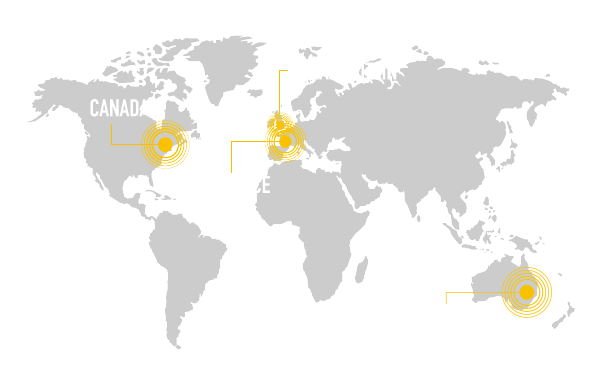 France, Canada, Great Britain. Asserting our presence on the International scene.
Seeking to address the North American Market's needs for road rail vehicles NEOTEC set up its Canadian division in Quebec in 2011.
Early 2016 it transformed its London sales office into a production company to meet the British railway network's maintenance needs.
Each subsidiary has its own engineering, technical support, assembly and manufacturing resources to be able to better adapt NEOTEC vehicles to local requirements. The ongoing improvement of the after sales service is crucial to being able to offer NEOTEC vehicle users a reliable, global and local service provided with optimum operational responsiveness.
Version Française